Easily Create and Polish Your Very Own Resume in Just Minutes with Resume Companion!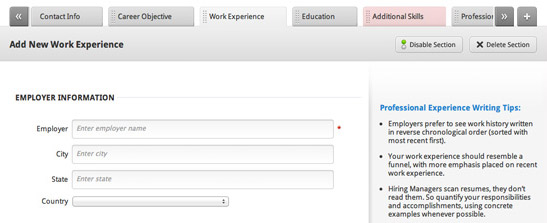 If you want to build a well-polished resume for a job application then try out Resume Companion. This online resume builder and application uses a proprietary technology to help you create a professional looking resume in just minutes. There's no need for you to have any previous writing experience to make your resume more imposing to employers because Resume Companion will do the job for you to generate the document. All you need to do is to enter your occupation or search over the 1,100 job titles, select the desired phrase which perfectly describes your job description and populate your resume within minutes. And once you're satisfied with your resume, you can easily export it to Microsoft Word and PDF file formats with just a few clicks. It's really simple to use and there's no registration required so you can start right away. Just click on Create My Free Resume and you'll be forwarded to the short step-by-step screen to polish your very own bio data. Simply fill-up the contact information, professional experience, education and add supplementary information that will beef up your credentials such as work history for functional style resumes, career objective, qualifications summary, credentials and licenses, affiliations, publications and presentations, awards and you're your endorsements!

Aside from the innovative resume template and builder, other product features of Resume Companion include the Cover Letter Builder which are vital for your application and can be used to accompany your resume. There's also a Business Letter Builder with placeholders for easy editing and customizing that you will need to send out professional correspondence to prospective employers, former colleagues and other business contacts. Another useful feature is the Sharing Tool for distributing your documents so you can easily print, email, and fax your documents whenever you need them. If you need to export your resume, cover letter and business letter a certain format then you can use the Export Tools to easily convert them to Microsoft Word, PDF, Text and HTML with just one click. And you don't need to leave Resume Companion to find a job opening online. With this site you can easily find thousands of available jobs that are synchronized with known job boards such as Monster.com and Careerbuilder.com so you can search through thousands of job sources s to locate exactly what you are looking for. Once you've picked out a position that you want to apply for, you can keep track of your application and see how it goes. If you want to get the premium features, you can take advantage of the Resume Critique Service which will provide you with a Pro Resume Consultant that will evaluate your resume and help you achieve your job search goals without any difficulty.
Even if you don't have any experience in building a resume, you can effortlessly make your application look good and more impressive to headhunters and employers. Using these tools, there's no doubt that it will be easier for you to land your dream job and start your own career with the help of Resume Companion.